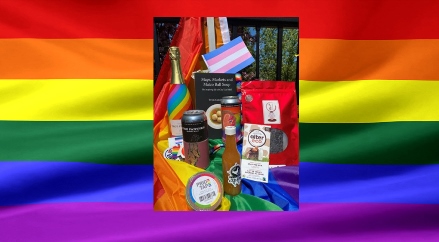 Guest Blogger – Jessica Scalzo, Program Coordinator, Centre for Sexual and Gender Diversity, MacEwan University
Join us in celebrating Pride Month with our specially designed pride-themed packages to help celebrate the diversity, resiliency, love, and empowerment found within our LGBTQ2 and allied communities.
Despite our continued separation, we can join together in the spirit of pride from the safety of our own homes.
This year, the MacEwan Centre for Sexual and Gender Diversity and deVine's Wines & Spirits are proud to present a unique way for you to celebrate Pride@Home. Each pride package features a variety of delicious and delightful items donated by local businesses and craft makers.
Each Pride@Home package will help you celebrate pride in your own special way. Give one as a gift, or keep it for your own family or bubble! All proceeds will be donated in support of the MacEwan Centre for Sexual and Gender Diversity.
There are 2 package selections to choose from: Boozy and Fizzy. The Boozy package features a selection of adult beverages, snacks, sweets, and fun-filled pride items. The Fizzy package includes craft sodas, Cookies by George, treats, and pride-themed items.
Do not delay in pre-ordering as quantities are limited to 75 Boozy and 25 Fizzy packages and first come first serve. Pride@Home packages are $50.00 each + GST. *There are no substitutions of package content.
We are extremely grateful to our most generous donors and supporters, including deVine's Wines & Spirits, Flag Shop Edmonton, Pride Tape, Polar Park Brewing, AlleyKat Brewery, Dai Lou Treats, IKEA Edmonton, Cookies by George Edmonton, ATB Financial, Maya & Jena Kabba, Jon Hall, Ironjet Promotions, Theatre Garage, QUILTBAG, Annex Soda, Oilers Entertainment Group, Fruit Loop, Northern Chicken, Blush Lane Organic Market, and many more!
You can pre-order using the links below. Each link will detail the contents of each package and dates that they will be available for pickup/delivery.
2021 Pride Fizzy Kit – $53.49 – Sorry, this is now SOLD OUT.