July is Petit Chablis month as several boutique stores around town promote and create awareness of this fine Chardonnay AOC region. While Petit Chablis is within the Chablis AOC, covering all areas not included in the Chablis Village wines, the Premier Cru's and the Grand Cru's – it is a source of great, easy to enjoy Chardonnays for early drinking that speaks of the terroir that it came from.
There's nothing really "little" or "lesser" about b>Petit Chablis, it is a Village designation that makes up around 18-20% of all wines made in Chablis, it is mostly spans the higher slopes or the beginning of the plateau in hard limestone or silty soils and of course, younger vines. The textures are light and full of verve, light straw in color with lovely minerality, green apples and gunflint – a great drink in the summer in your back yard.
The promotion this month includes a draw to win two bottles of Petit Chablis, a charcuterie board from The Butchery by RGE RD and to participate in a Zoom Virtual tasting with Barb Philip, MW and Gurvinder Bhatia, organizer of this event and Quench editor-in-chief on Thursday, August 26th. Enter in-store at deVines – no purchase necessary.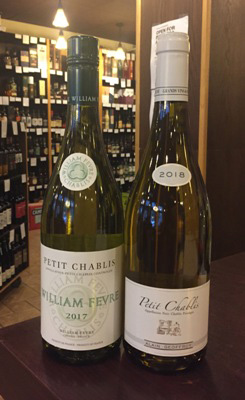 Try a couple of Petit Chablis this month:
2018 William Fevre Petit Chablis (Chablis, France) – $37.99
2019 Alain Geoffroy Petit Chablis (Chablis, France) – $28.99
Happy Petit Chablis month everyone!!