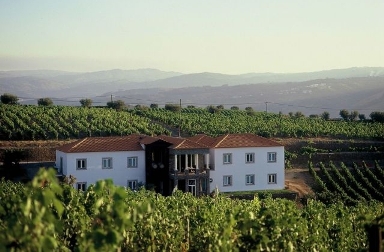 Author: Dirk Chan
deVine and David Gordon of Saverio Schiralli Agencies proudly present an evening of Quinta of Portal wines with export managers Pedro Almeida Santos and Paulo Marques on Tuesday, March 2 at 7pm.
Portal is one of the increasing number of family owned wineries (or quintas) spouting up in Portugal and in just a dozen years or so as shippers has been on a fast track to success with world wide recognition for their ports and red wines. We will sample a white, several reds and ports from this rapidly rising and award winning (Wine & Spirits Magazine's Winery of the Year for 2009) Portuguese house located in the heart of the Douro Valley. Portuguese wines offer the best bang for the buck in the old world, and you will see why in this rare tuesday night sit-down tasting.
Much press has been heaped on this house: Forbes Magazine recented elected Portal as one of the ten great international wine destinations with its great guest house and beautiful views.

One hundred hectares are under vine, and the fruit is sourced from four high altitude ancient vineyards or quintas: Quinta da Abelheira, Quinta do Confradeiro, Quinta dos Muros (over a century old and escaped the Phylloxera carnage) and Quinta do Portal. 50% the grapes used in the production of the Quinta do Portal wines come from the company vineyards, the other half is purchased from growers in the Pinhao and Torto Valleys. Winemaker Paulo Coutinho and owner Pedro Mansilha Branco has done a fine job raising the wines to a new level of quality with hard work and heavy monetary investment to upgrade the winery. Prior to Portal's incorporation, the fruit grown on the vineyards were sold to Sandemann.
Please join us for this chance to sit down with our visiting friends from Quinta do Portal. Here are the wines to be served at the Quinta do Portal tasting:
1) 2008 Quinta do Portal Branco – $24.99
2) 2005 Quinta do Portal Malvis – $13.49
3) 2006 Quinta do Portal Douro – $23.49
4) 2005 Quinta do Portal Douro Reserva – $34.49
5) 2001 Quinta do Portal Grande Reserva – $47.99
6) Quinta do Portal 10 Year Old Tawny Port – $44.99