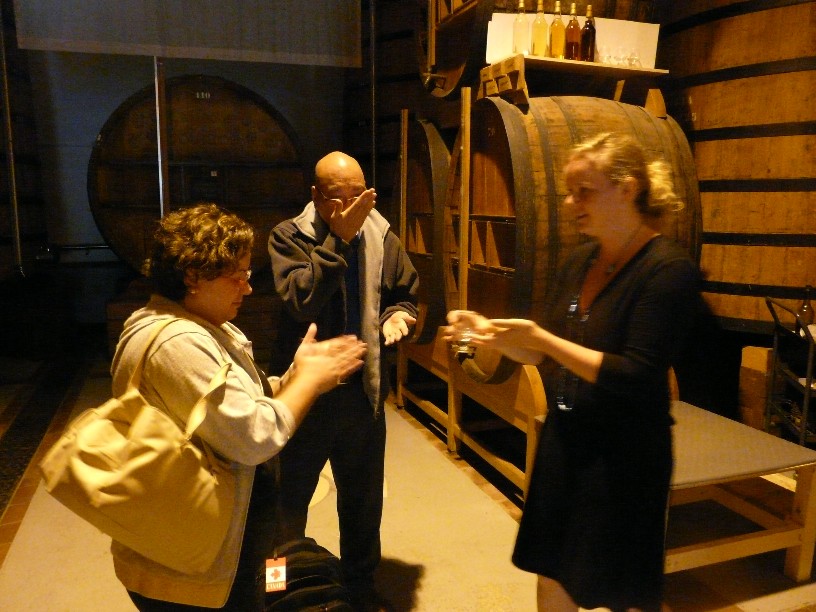 Author: Ed Fong
I grew up hearing about Cognac from my father.  I saw him enjoy it at the dinner table, I saw the beautiful decanters displayed on his bar, I went to the liquor store to pick it up with him before I was of age and I heard him talk about it, constantly.  For many Orientals, it was spirits, and not wine, that brought people together when they broke rice at the dinner table.  I learned to appreciation Cognac at a relatively young age because of my father, so when I had a chance to visit the city that gave its name to this special elixir, I jumped at the chance. This summer, I had the great pleasure of visiting two cognac houses on the same day, François Voyer and Camus.
  Our first stop was at François Voyer, a boutique producer based in Segonzac, a 45 minute drive from our downtown hotel in Cognac.  We were received by Voyer's master blender, Pierre Vaudon, who gained much of his experience from working with his grandfather.  Voyer makes about 100,000 bottles per year, but loses about 10,000 bottles through evaporation from their stock of 500,000 bottles.  This loss or "angel's share" is staggering!  One can only imagine what goes up in vapors at one of the larger producers who make 60 million bottles annually.  That's a hell of a lot of drunken angels!
Pierre first showed us his vineyards, all of which are located adjacent to the distillery.  They are distinct as they are planted on slopes, whereas most of the cognac vineyards are on flat land.  The vines are kept unpruned and vegetation is allowed to grow between the rows.  Pierre feels this practice allows the base wine to achieve greater concentration.  When I first saw the many unpruned vineyards in this region, I thought something was wrong here.  It was me!
After a tour of the vineyards, we were shown the stills and lead through the three cellars holding the stock at various stages of maturity.  I was able to sample the spirit from barrels at different ages, and learned how the age of the casks and how heavily the toasting of the barrels can dramatically influence the character of the cognac.  In the last warehouse, Pierre showed us some old stock lying casually on the floor.  The cognac was kept in glass demijohns to halt the aging and evaporation.  When I asked Pierre what was inside the containers, he casually mentioned it was the 1914 vintage!  It took 3 bottles to make each one, two for the angels and one for the lucky drinker.  No wonder old cognac is so expensive.
We concluded our tour with a sit down tutored tasting of 6 cognacs: Grande Champagne, VSOP, Napoleon, XO, Extra and Hor d'Age.  They were all beautifully crafted and made to show the best from each age category.  My favorites were the XO with its lovely, viscous texture and tremendous length, and the Extra, both based on 25 year old blends.  The Extra was very fruity, richly textured with an almost nut-like flavor.   After the tasting, I looked around the room and asked Pierre about the 1928 Vintage I eyed on the counter.  He said it was a special edition and asked if I would like to try it.  Well, hell yah!  This 80 year old cognac had a huge floral nose and a very elegant flavor profile.  Amazingly, the alcohol does not show through on the palate, giving it a very silky texture.  And the finish, it lasted for over 10 minutes.  I could not believe I was drinking this liquid gold.  It was the best cognac I have tasted in my entire life.  Pierre asked us to finish the 1928 and jokingly said he would rather we take the glass than see the contents go into the spit bucket.  No problem, glad to oblige!  The cognacs of François Voyer used to be available in the Alberta market. Should they make a reappearance, deVine Wines will eagerly place them on our shelves again.  Fingers crossed!
Pierre was very kind to take nearly 3 hours out of his busy day to see us.  It was a fantastic experience to spend such quality time with an artisan.  As we drove back to Cognac, I could still taste the 1928 lingering on my palate.  What I would give for good ole Dad to be sharing this experience with me.
Upon returning to Cognac, we stopped for lunch at a touristy pub called Cougurt.  It was the most dreadful "culinary" ordeal of my ten week trip.  I had an omelet that was prepared in the microwave and it was obvious they had not perfected their technique.  The egg was cold, spongy and soggy, with the interior filled with some white, cheese-like substance.  The green salad on the side was drowned in a god awful, cheap balsamic vinegar.  This meal was totally inedible, so I left disappointed, still hungry and feeling cheated.  By this time, the finish on the 1928 Voyer Cognac had all but disappeared.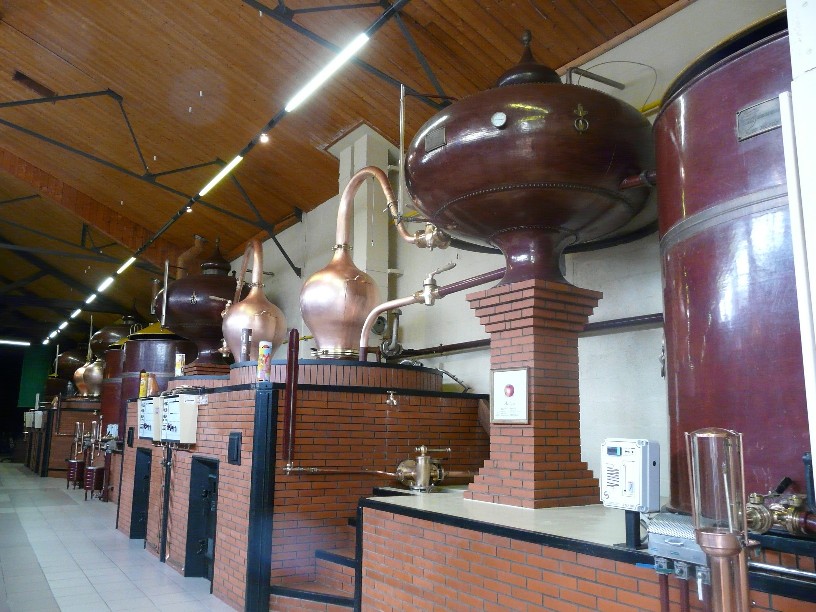 Our next appointment was for at Camus, a 10 minute walk from our hotel, so we had ample time to explore.  The highlight of the city was the public gardens surrounding the majestic chateau Hotel de Ville.  It truly was an oasis of parkland in a sea of drab concrete.  Being a Monday, about 50% of the retail stores were closed, so not too many people were out wondering about.  Many of the buildings were dull, drab and in need of a fresh coat of paint.  I had romanticized Cognac in my mind, and truly expected more from a city of tremendous wealth responsible for making the best brandy in the world.  Perhaps I just didn't get to the right places. Or my expectations were just too high.
Sylvie Perret (pictured) conducted our tour at Cognac Camus, a brand that is well represented on our shelves.  She explained that the walls of the warehouse building were black from the fungus that was feeding off the evaporating spirits.  The family used to deal in salt, a very valuable commodity in the past.  To hide the piles from prying eyes, the walls surrounding the distillery were built with extra height.
Camus has remained independent for five generations, and the firm has been responsible for innovations like being the first to package their Napoleon range in the now familiar frosted bottles.  What was totally cool was trying their new Ill de Re island cognac range.  They are packaged in a Bruichladdich-like bottle.  The grapes are grown on Ill de Re, an island west of the coastal town of La Rochelle.  We tried the youngest blend that was stored in a freezer and served from a stemless martini glass set atop a tumbler that was filled with ice.  It was a thirst quenching, sexy and viscous drink with great visual impact.  I would love to introduce this hip cocktail to Edmonton if this cognac ever makes it to our fair city.  The XO version was fascinating as well.  It had a sweet palate entry, but finishes dry with just a hint of a salty tang belaying its maritime origins.  Totally cool!
It was a wonderful day visiting a small artisanal cognac producer like Voyer, and then following it up with a giant like Camus.  Although large in scale, Camus is totally dedicated to producing high quality cognac in all regards.  It is good to see they have not lost their way like so many of the "big name houses" who churn out huge quantities of very ordinary cognac.  Bravo!
After our visit, Annabelle and I wandered around town a bit more before having dinner at Coq d'Or, a seafood restaurant.  I had the crab soup, followed by charcroute.  Yes, I know I'm having pork hocks in a seafood joint, but what can I say. I needed a good meal after the disaster at lunch.
  The last thoughts of my day were of Dad.  I remembered his reaction when I gave him a bottle of Remy Martin Louis XIII Cognac that he talked about since I was a kid.  Mom thought I was insane for spending the money, but his reaction was priceless.  After today, I'll think of Thomas even more whenever I put a glass of cognac to my lips.  Yum Sing (Cheers) Dad!
Our special thanks to Lana Heiman of Peter Mielzynski Agencies Ltd. for arranging our visits Camus.
Camus VSOP Elegance – $52.99

Camus XO Elegance – $134.99

Camus XO Chunghwa – $139.99

Camus XO Borderies – $159.99

Camus Elegance Extra – $269.99