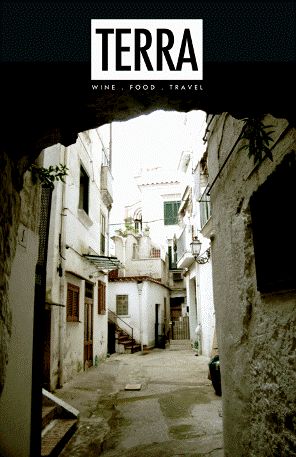 Author: Ed Fong & Annabelle Evaristo
Just when you think you have heard it all, they come up with another wild and crazy idea! "Wine Guy" Ed Fong, "Travel Gal" Annabelle Evaristo and "Food Guy" Daniel Costa are teaming up to form a new wine and culinary travel company aptly, named Terra Globetrotters.
Ed Fong and Annabelle Evaristo are managing partners of deVine Wines & Spirits, Edmonton's premier fine wine store. Now open for six years in downtown Edmonton, deVine Wines has earned a reputation for providing great customer service and a world class selection of fine wines and spirits. deVine Wines has just been named "Best Wine Store" by the readers of See and Vue Magazine for the third year in a row.

Daniel Costa has recently taken the restaurant scene in Edmonton by a storm with the opening of his new digs, Corso 32. Daniel's passion for creating authentic Italian food served in a sexy, yet cozy setting, has helped ignite interest in our local dining scene. His family roots in Campania, Italy, are the source of his inspiration in the kitchen. The readers of Vue Magazine have just named Corso 32 "Best Italian Restaurant" in Edmonton.
The Fun Begins!
Ed, Annabelle and Daniel are launching their first wine and culinary tour this fall. You can join them for an exciting 14 day tour of Italy now!
We can promise you this won't be your ordinary travel "packaged"" tour experience. Why? Well, how often do you get to explore a country and your passion for wine and food with three personal tour guides who are in "the know"? And you will travel in comfort and style! You will be staying in Three and Four Star Hotels throughout your tour and you will be transported in a private van by an experienced driver.
You can read all the details in Word doc format here

This Italian experience will enable you to sample the flavors of both the north and south. You'll spend five days in Paestum in Campania where Daniel will show you the town where he grew up and the fine food the region has to offer. Daniel will take you shopping at the local markets and explain to you the special nature of the ingredients. You will have then have an opportunity to take your purchases to a kitchen and prepare a meal under the guidance of Chef Costa. While in Paestum, we will make a "real" wood fired authentic pizza, visit a buffalo farm, and weather permitting, go on a Porcini mushroom hunt, all under the tutelage of our fine chef. Annabelle and Ed will then slake your thirst by taking your to a local distillery where the world famous limoncello in produced. Visits to the top two wine producers in Campania are also planned for you wine loving travellers.
After five sun drenched days in Campania, we head north to the hills of Piedmonte. You will be staying in the city of Alba for six nights. Ed and Annabelle will help you extensively explore Italy's premier wine producing region located close to our stay. Many special visits have been planned for some of the top Barolo and Barbaresco producers. This will truly be a wine lover's paradise and experience!
The Highlights!
Sep 1 – Thursday
• Tour group meets in Rome for a 3 night stay in a Three Star Hotel
• Private transfer to your hotel from the airport
• Tour members will be given a Roma Pass to explore the city
Sep 2 – Friday
• Explore Rome during the day and get to know your travel companions at a "Welcome Dinner"
Sep 3 – Saturday
• Group Lunch
• Private transfer to the Vatican Museum for a 4 hour private tour (entrance fee and head phones included)
Sep 4 – Sunday
• 9:00 AM – 4 hour private tour of Rome
• Private transfer to Rome Termini train station
• Take a fist class seat train ride to Paestum (4 ½ journey)
• Stay for 6 nights at the Four Star Hotel "Cerere"
Sep 5 – Monday
• 2 hour private guided tour of Paestum
• 2 hour private guided tour of Pompeii
• Visit the wineries of Feudi di San Gregorio and Mastroberardino
• Lunch at Feudi di San Gregorio
Sep 6 – Tuesday
• Visit San Pietro al Tanagro, the home town of Chef Daniel Costa. Go shopping at the market and prepare a meal in a fully equipped Italian kitchen
• Enjoy a picnic, Italian style
Sep 7 – Wednesday
• Visit a buffalo farm and see how Buffalo di Mozzarella is made
• Weather permitting, go Porcini mushroom hunting
• Visit a limoncello distillery
Sep 8 – Thursday
• 2:00 PM – Private transport to Napoli airport
• Depart Rome @ 5:20 PM via Alitalia / Arrive Torino @ 6:55 PM
• Private Transfer to Alba, Piedmonte for a 6 night stay at the Four Star Hotel "Calissano"
• Dinner for tour group in Alba
Sep 9 – Friday
• Winery tours
Sep 10 – Saturday
• Winery tours
Sep 11 – Sunday
• Winery tours
Sep 12 – Monday
• Winery tours
Sep 13 – Tuesday
• Winery tours
• Farewell dinner in Alba
Sep 14 – Wednesday
• Private transfer to Torino airport where you will depart for Rome
• Depart Torino @ 11:00 AM via Alitalia / Arrive Rome @ 12:15 PM
• Private transfer to a Three Star Hotel in Rome located by the Trevi Fountain
Sep 15 – Thursday
• Private transfer to the Rome airport
• Tour concludes
The Costs!
As this is our very first tour, we want to offer you exceptional value for your travel dollar.
Final pricing is still being determined. Note that the final price will not include your return flight to Rome.
For additional information or to express your interest, please contact Annabelle or Ed at deVine Wines.
Phone: 780.421.9463
E-mail: annabelle@devinewines.ca / ed@devinewines.ca
Fax: 780.421.9477