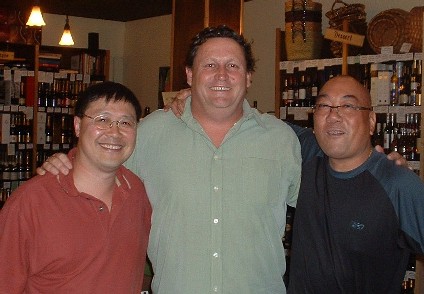 Author: Dirk Chan
It is not every day that one of the world's great winemakers visit your store, but that happened this past Saturday as we were thrilled to have David Powell of Torbreck Vintners based out of Barossa here to do a sit-down tasting with us.  For a winery that was established in the mid 1990's, Torbreck (named after a forest in Scotland where David worked as a lumberjack) has had a fast track to super stardom in the Australian wine scene. A favourite of the influential American wine critic Robert Parker, the flagship wines are highly collectible cult wines that are sought the world over.
What a stellar lineup it was! Fascinating stories about how the names of the wines were derived: Woodcutter's from David's days as a lumberjack, Juveniles and Les Amis from famous restaurants, The Steading based on barns, stables and outbuildings, The Struie from a hill that rises from the Glenmorangie Distillery, The Pict from a tribe of Scottish warriors, Descendant build from rooting planted from the RunRig plots, and finally RunRig from the famous and legendary Scottish Gaelic Rock Band by the same name.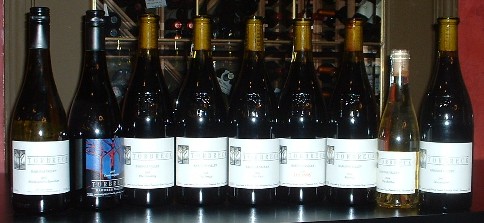 There is an undeniable hommage to the French Rhone varietals Syrah, Grenache and Mourvedre, and David's winemaking style is unique in the sense that his wines are not over-oaked, has finesse and breed and while full of flavor, it is not a fruit bomb style – the wines paired extremely well with the rosemary and sage flavored lamb sausages and provencal potatoes. The wines are not cheap,  but David believes you should pay for world class wines. His philosophy is to make ageworthy wines that speak of the Barossa – it is the vines that make the wine, and while his vineyard practices are strict, he lets the fruit speak for themselves with minimal intervention. The high end wines are certainly special occasion wines, so profound and singular that you can practically taste the 100-150 year old vines.
Our special thanks to Spike Maynard of Harvest Vintage Imports for making this special event possible.
2007 Torbreck Woodcutter's White Semillion – $23.99

2006 Torbreck Woodcutter's Shiraz – $28.99
2005 Torbreck Juveniles GSM – $29.99

2005 Torbreck Steading GSM – $51.99

2005 Torbreck The Struie Shiraz – $61.99

2005 Torbreck The Factor Shiraz – $159.99

2003 & 2005 Torbreck The Descendant Shiraz – $159.99
2005 Torbreck The Pict Mataro – $214.99
2003 & 2005 Torbreck Les Amis Grenache – $234.99

2003 & 2004 Torbreck RunRig Shiraz Viognier – $299.99