Author: Dirk Chan
Chateau Fombrauge is owned by Bernard Magrez of Chateau Pape Clement fame since 1999 and this Saint-Emilion Grand Cru, and is one of the oldest chateau in the region (16th century). The beautiful old single floor chateau has 5 rooms for rent to travelers, is beautifully decorated in the old Victoria style. The stately tasting room is huge and immaculately styled with a couple of glassed enclosures holding antique time/watch pieces (pictured). We were greeted by Nicolas Contiero, the Marketing Director (an Italian in France!)
With 75 hectares in 3 plots, the vineyards are well exposed on a chalky slope at the south end of St. Emilion. The main wine is well priced and adored by Scandanavians (who were the previous owners before Magrez).
There is a small production garage wine, the Magrez-Fombrauge ultra-premium and there is the very good and inexpensive 2009 white St. Emilion (one of only three in the entire region) which we tasted that was lovely with great exotic tropical fruit and bright citrus acid (quite different from the mineral driven whites found in Pessac Leognan). We tasted the 2007 Fombrauge Rouge that was beautifully made and makes a case for drinking your 2007's right now whereas the 2010 tasted from barrel was more structured and in a different quality plane – this is an excellent QPR wine.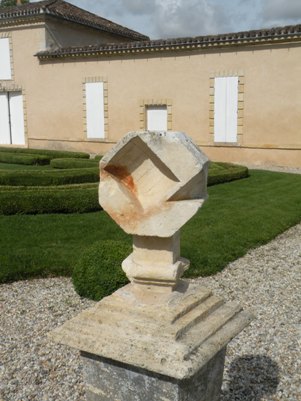 On the grounds, there is a 16th century sundial that was an hour behind local time! that intrigued us with its long history and roman numeral carved into the dial (pictured).