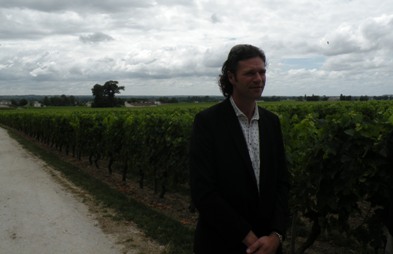 Author: Dirk Chan
We visited Chateau Angelus (btw, the 's' is pronounced), a St. Emilion Grand Cru Classe B and met briefly with owner Herbert de Bouard de Laforest. One of the wine's claim to fame was its appearance in the '007' Casino Royale movie where Daniel Craig's James Bond drinks the Angelus. The story was that current series producer Barbara Broccoli, the daughter of former longtime producer Albert R. Broccoli, said her father adored the wine, so she decided to add Angelus to the now famous train scene where Bond dines with Vesper Lynd, played by Eva Green – apparently Barbara requested 5 bottles of the 1982 to shoot that scene! claiming James Bond only drinks the very best – alas the 1990 wasn't even good enough!
As an aside, it may be a one time appearance for Angelus, as the recently released new James Bond novel 'Carte Blanche' penned by American author Jeffery Deaver has 007 drinking a South African wine – the Warwick 'Three Cape Ladies'.
Known as Chateau L'Angelus until 1990 when the L' was dropped, this estate has a similar blend to the famous Cheval Blanc, roughly 50-50 CabFranc and Merlot (there is a tiny bit of CabSau planted). Note in the picture above of the vineyard with our tour guide and winery consultant Laurent Benoit that there is a naturally gentle slope of this one contiguous plot of vines that helps with drainage down to the CabFranc located at the bottom of the plot which needs the moisture.
Ran for seven generations by the Bouard de Laforest family, (Herbert's father is 89 and lives in their neighbouring estate of Bellevue), the Angelus name refers to the three Angelus bells audible from the vineyards, coming from the chapel at Mazerat, the church in Saint-Martin de Mazeret and Saint-Émilion.
Amongst all this trivia, we managed to taste the 2007 Bellevue (very good and ready to drink), 2009 Bellevue (a much better bottling) and then the 2009 Angelus (exceptionally inky, voluptuously creamy). At VinExpo, the beautifully articulate blue and blackberry driven 2010 is a twenty year wine that will require more time than the 2009. The wine is expensive certainly, but worth it.
By the way, when renovations are done to the front of the estate next year, the bell (pictured below in the current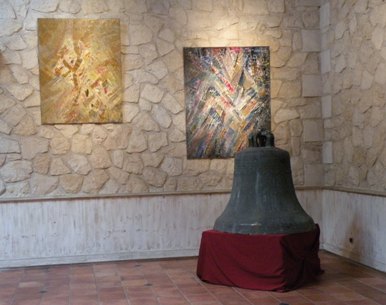 gallery reception area) and two others will be moved into what is currently the parking lot (also pictured). The bells are of course prominently displayed in the striking Angelus labels.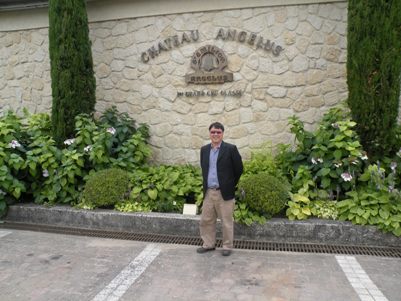 Tomorrow, Chateau Margaux..