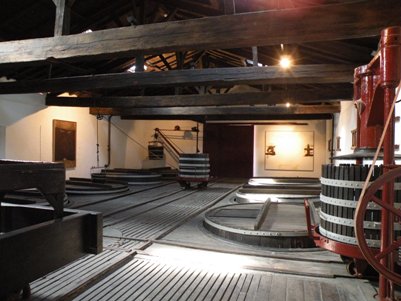 Author: Dirk Chan
With eager anticipation, we arrived at Chateau Lynch-Bages, one of the Bordeaux's most recognizable names. This well respected 5th Growth in great years has done it again in 2010 – this is a superb wine (one of the wines of the vintage), and one to cellar for 20-25 years. Pitch black and oozing violets, yet there is a density of fruit that comes in waves. Another home-run from this estate (just wish it wasn't so expensive, but then all the stunning Pauillac's have risen 20-40% from 2009, outrageous but people are still buying) that ranks with their great 1982, 1989, 1990, 1996, 2000, 2009.
The Cazes have done extremely well in the Bages, with young Jean Charles taking the reigns from his retired father Jean-Michel and implementing new ideas. We visited the shops where the Cazes have built a series of quaint stores and cafe's . At the winery, there is a museum (pictured above) that you can visit, where you can see the old archaic equipment that was last used in 1975 (pictured). The elder Cazes' love for Oriental art is strewn all over the property (see picture on the next page).
The garden-feel tasting room is spacious with windows – we enjoyed the Echo of Lynch Bages 2010, and were even more impressed with the finest Lynch Bages Blanc I have ever tasted – judicious use of oak, citrus fruit, pineapple, grapefruit and star fruit – have to look into this one. I've been impressed with the white Bordeaux I've tasted on this trip.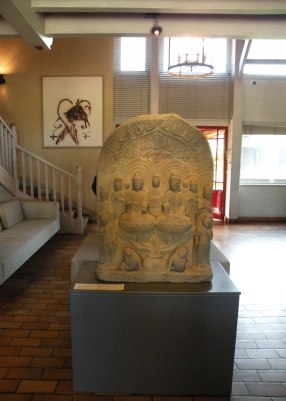 Onward to Reims and some Champagne producers..