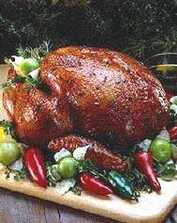 Author: Dirk Chan
As Thanksgiving approaches, we get numerous request for suggested wine pairings for the traditional turkey dinner. We worked with Nick Lees of the Edmonton Journal and came up with a Baker's Dozen wines that would be appropriate. Our choices are actually not for the roasted turkey but rather the focus is on the fixings (candied yams, sweet potato, cranberries, honeyed ham etc), all of which have some degree of sweetness. A dry white is not the best since the sweet fixings will strip the fruit and make the wine taste more dry. Thus, an off-dry white wine with some sweetness is best.
Rieslings are a great match with its apple and pear fruit and crisp acidity. Try the Cave Spring from the Niagara. The Gray Monk Pinot Auxerrois is unique with its lemon lime notes. Both French wines hail from the fabulous 2005 vintage in France, are high class and intriguing- the Clos Naudin is made from the Chenin Blanc grape, glcerin textured and light as a feather while the Domaine Weinbach Pinot Gris is a wine with notes of fennel, white pepper and stone fruits, a wine of great finesse and class.
The Domaine Houchart Rosé from Provence is a fabulous alternative for the adventurous who want both a white and red in one wine. Crisp, refreshing and tart, Rosé pairs great with fish, pork and poultry and creates a novel pairing.
As for reds, you don't want a huge, full-bodied, tannic red because the fixings will accentuate the heat and oak in those wines. Thus, lighter reds that has lots of fruit, low tannins and less oak will work better. The Wine by Joe Pinot Noir from Oregon is a fun and serious wine at the $25 price point, full of strawberry and cherry fruit. The Domaine d'Ardhuy Clos des Langres is a Burgundy from a Monopole (the whole vineyard is owned by a single owner) and is another fine Pinot Noir from 2005 . The Fuligni Rosso di Montalcino is medium bodied with lots of flowers and rose water nuances and made from a clone of Sangiovese (the Chianti grape).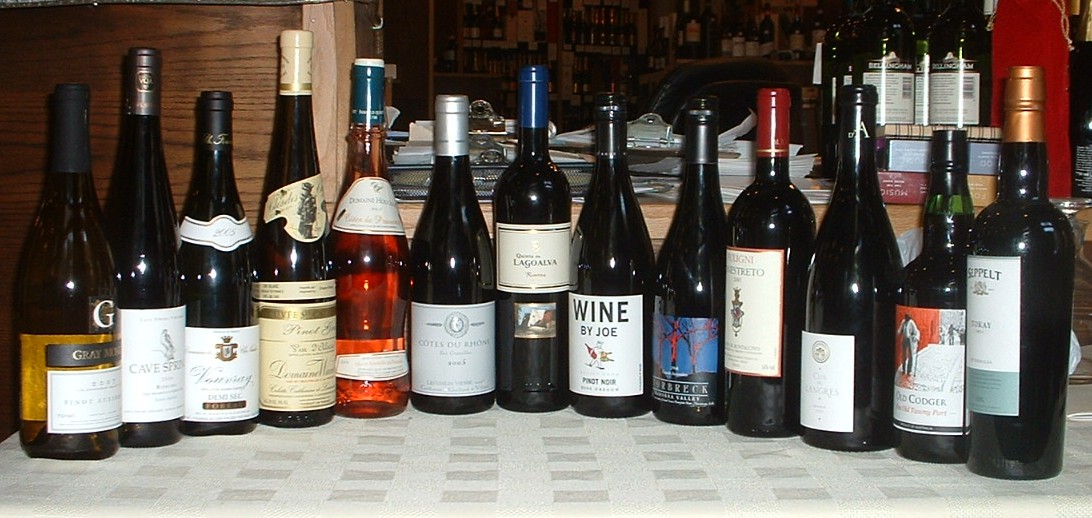 Grenache works well with poultry as its spiciness and earthiness ties any meal together. Try the Torbreck Juveniles from the Barossa Valley, and the Vins de Vienne Cotes du Rhone from Southern France, both offering medium-full bodiness and stellar fruit. And for something totally unique, try the Quinta da Lagoalva Reserva from Portugal with its blueberry, brambly flavors and sensuous mouthfeel made from the same indigenous Portugese grapes used in the making of Vintage Port.
Finally, two offerings to pair with pecan or pumpkin pie, which are usually extremely sweet. Here you want a huge dessert wine (Sauternes and Icewines are not big enough). Try the Seppelt Tokay – full of toffee and molasses flavors, or the Dutschke Old Codger Tawny style Shiraz – with its heady nutty and caramel flavors both from Australia.
Happy Thanksgiving everyone!

2006 Cave Spring Reserve Riesling – $22.99
2005 Philippe Foreau Clos Naudin Vouvray  – $47.99

2005 Domaine Weinbach Pinot Gris – $59.99
2007 Domaine Houchart Rosé – $18.99