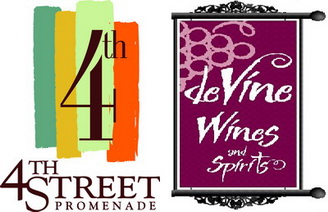 Author: Ed Fong
Save the date! The businesses on 104th-St. are coming together on Tuesday, December 20 to say a collective "THANK YOU!" for your support throughout the year.
Please come visit us and enjoy the many special offers and activities provided by the street merchants and restaurants for your holiday festive season pleasure. Follow the link below for additional details or by contacting the individual businesses.
deVine will be having a sale from 4pm till 10pm on Tuesday, December 20th (in-person shopping or online shopping from 4-10pm). We will be offering a 10% discount on all regularly priced in-stock wines and spirits (excluding beer, wines stored in our vintage keeper & vintage room, cases of the month) – no rainchecks/backorders and no other discounts apply. Here is your chance to save and get all of your wine and spirits needs done for Christmas and New Years.
In addition, there will be a free wine sampling while you shop as well as an in-store draw for a gift basket of wine. Don't miss yet another huge 104th Street Promenade event.
Below are what our neighbours are doing to say 'Thank You' for your patronage:
29 Armstrong (all day sale), Main Floor, 10129-104th-St.
29armstrong.com or phone 780.758-4940
· 20% discount off stocked items, all orders and sale prices
Blue Plate Diner (4 PM to 10 PM), 10145-104th-St.
blueplatediner.ca or phone 780.429.0740
· 25% off all food (discount is not applicable to beverage alcohol)
Blunt Salon (all day sale), Icon II Tower, 10142-104th-St.
bluntsaloninc.com or phone 780.498.1899
· Discount on all haircuts and styling
· Discount on all salon products
Bubble Buzz (all day sale), 10140-104th-St.
bubblebuzz.ca or phone 780.761.2899
· Purchase one drink and receive a 50% discount on your second drink
· Come down and enjoy relaxing board games while you savor our drink creations
Carbon Environmental Boutique (all day sale), 10184-104th-St.
carbonboutique.com or phone 780.498.1900
· A full day sale event
· In-store draw for a $50 gift certificate
Coup (garment boutique) (all day sale), #101, 10137-104th-St.
coupboutique.com or phone 780.756.3032
· 30% discount on all clothing
· In-store draw for three (3) private shopping nights
Credo Coffee (all day chance to win a draw prize), Icon Tower I, 10134-104th-St.
credocoffee.ca or phone 780.935-5546
· Draw for "The Ultimate Credo Gift Basket" with a total value of $100 consisting of…
– $30 gift card
– bag of espresso
– bag of single origin coffee
– ceramic travel mug
– espresso cup and saucer
Eye Care Group (all day sale from 9 AM to 9 PM), 10360-Jasper Ave.
eyecaregroup.ca or phone 780.437.2020
· Champagne reception from 4 PM to 9 PM
· All eyewear orders 25% off (frame & Rx lenses)
· Annual supply Focus Dailies $425 with rebate (reg. $600)
· Pre-book an eye exam & receive $50 Eye Care Group gift card
Queen of Tarts (all day complementary treats), 10129-104th-St.
Phone 780.421-4410
· Please stop by and enjoy complementary mulled cider and cookies
Tzin Wine & Tapas (4 PM to 6 PM), 10115-104th-St.
tzin.ca or phone 780.428.8946
· Book a reservation between 4-6 PM and we will take 15% of your total check
You can get all your Christmas shopping done in one night – please mark your calendar and join us for a festive evening.