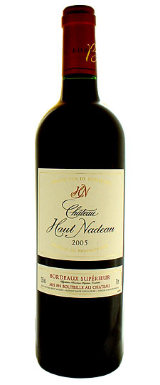 Author: Dirk Chan
Many of the world's most influential wine critics (Robert Parker Jr., James Suckling) have called the 2009 Bordeaux vintage the greatest ever, resulting in prices escalating even higher than the already proposterous pricing from the futures campaign from 2 years ago. However, having tasting many of the lesser wines already available in Alberta, I must say that this is going to be a vintage that may never shut down, definitely earlier drinking, a more forward vintage that fortunately can be appreciated sooner than most 'classical' vintages that demand much patience.
Take the latest Petit Chateaux arrival – the ever popular Chateau Haut Nadeau – $20.99. The 2005 of this wine was a deVine bestseller and there's every indication the 2009 will be the same. Classic blend of Cabernet, Sauvignon, Merlot, Petit Verdot, Malbec and Cabernet Franc, this has ripe dark cherry fruit, a creme de cassis nose, very nice balance of acid and tannins, enough structure to age short-term and eminently enjoyable with red meat now with a half hour decant.
While we anxiously await the arrival of the 2009 Classified Growths from futures (many of which scored 95+ points from the in-bottle ratings that have been recently announced),we can enjoy the numerous Petit Chateaux at our disposal now. Don't miss this legend of a vintage.
You can purchase the 2009 Haut Nadeau here..

Come in to deVine's to see many more 2009 Petit Chateaux..