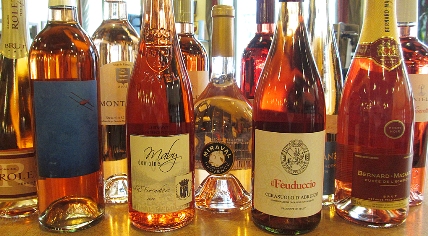 Author: Dirk Chan
Rosé season usually starts end of May, but with our prematurely warm Edmonton weather, the demand is about a month earlier than expected. We've scrambled to fill our shelves with the pinks to satisfy the burgeoning demand.
Rosés have been on fire at deVines for a few years now, but more so than ever, our customers are asking for a wider selection, and we have done so…Whether its for enjoying on the patio, in a picnic scenario, or just with charcuterie and cheeses, these pinks are the way to go for the summer months. The lively bright colors range from light pastel, to salmon to bright ruby red, these dry wines are light and breezy, combining the best of both white and red and without pretention, it is merely to be enjoyed with family and friends as there is no wine snobbery associated with roses and that's a good thing! The relatively low pricing is yet another attractive characteristic of rosés.
Here is an extensive list of what is already available at the store. Check back on the website as more is on the way..
2015 La Vieille Ferme Rosé Cotes du Luberon (Rhone Valley, France) – $15.99
2014 Bodegas Farina Colegiata Rosé (Toro, Spain) – $17.99
2014 Château de Nages Buti Rosé (Costieres de Nimes, France) – $18.49
2015 Protos Ribera Duero Rosado (Ribera del Duero, Spain) – $18.99
2014 Domaine du Grand Cros Rosé (Provence, France) – $19.99
2013 Chaos Wines Rosé (California – Suisun Valley, United States) – $20.99
2015 Clos du Soleil Rosé (BC – Okanagan, Canada) – $23.49
2015 Baillie-Grohman Blanc de Noirs Rosé (BC – Creston, Canada) – $26.49
2015 Jolie-Pitt & Perrin Côtes de Provence Rosé Miraval (Provence, France) – $29.99
2015 Pratello Chiaretto (Lombardy, Italy) – $32.99
And for those wanting a sparkling pink:
NV Bernard-Massard Cuvée de L'Écusson Brut Rosé (Luxembourg) – $22.49
NV Rolet Crémant du Jura Brut Rosé (Jura, France) – $27.99
Have yourself a Pink Day!