Happy Holidays Everyone from deVines!!
I've always been fascinated with big bottles at any event, it immediately adds that feeling of something special going on – partly because the size infers lots of people, fun and joviality amongst friends and relatives.
Also, wines from magnums and even bigger formats usually show youth and vitality because the airspace to wine ratio is lower, and supposedly the wine ages slower.
Next time you want to celebrate, consider a magnum party. At deVine's, we buy magnums all year long just for this time of the year. As Christmas is fast approaching, here is a very large list of available big formats at deVines for your consideration (availability is very limited, most we only have one or two bottles for sale), so shop early for the best selection as this is the part of the year when these bottlings start disappearing fast.
Pictured left to right: (all sizes are 1.5L unless otherwise stated)
NV Pierre Peters Cuvée de Reserve Grand Cru Blanc de Blancs Brut (Champagne, France) – $169.99
2015 Chateau Rousselle (Bordeaux – Cotes de Bourg, France) – $59.99
2011 Il Poggione Brunello di Montalcino (Tuscany, Italy) – $144.99
2004 Penfolds Grange (South Australia, Australia) – $1599.99
Other available big bottles for your consideration:
NV Domaine Rosier Cuvee Ma Maison Rose Cremant de Limoux (Languedoc-Roussillon, France) – $47.99
NV Veuve Clicquot Ponsardin Yellow Label Brut (Champagne, France) – $169.99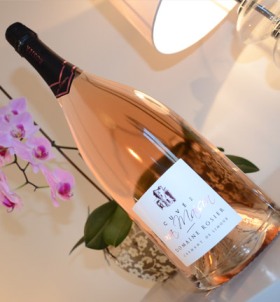 2017 Max Ferdinand Richter Wehlener Sonnenuhur Riesling Spatlese (Mosel, Germany) – $129.99
2014 Château Dutruch Grand Poujeaux (Bordeaux – Moulis, France) – $104.99
2016 d'Arenberg Footbolt Shiraz (McLaren Vale, Australia) – $64.99
2001 Bodegas Valdemar Gran Reserva (Rioja, Spain) – $109.99
2016 Vidigal Porta 6 (Lisboa, Portugal) – $34.99
2015 Chateau Lamothe-Bergeron Cru Bourgeois (Bordeaux – Medoc, France) – 3.0L – $254.99
2009 Château Haut Bailly (Bordeaux – Pessac-Leognan, France) – $699.99
2014 Quinta de Cabriz Colheita Selecionada (Dao, Portugal) – $45.99
22013 Feudi di San Gregorio Serpico (Campania, Italy) – $239.99
2010 Terralsole Brunello di Montalcino (Tuscany, Italy) – $239.99
2015 Château Larrivet Haut Brion (Bordeaux – Pessac-Leognan, France) – $224.99
2010 Vietti Barolo Castiglione (Piedmont, Italy) – $219.99
2007 Quinta do Portal Vintage Port (Douro, Portugal) – $149.99
Have yourself a magnum of a day!