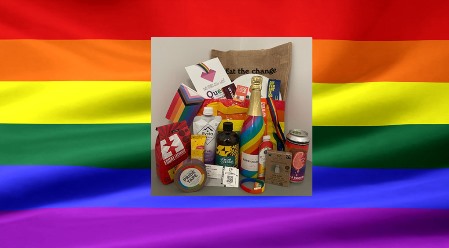 Guest Blogger – MacEwan Centre for Sexual and Gender Diversity
They're back!
MacEwan's Centre for Sexual and Gender Diversity (CSGD) and deVine's Wines and Spirits are once again excited to bring you our Pride Party Packs to help celebrate Pride Month!
Filled with goodies donated by local LGBTQ2+ supportive businesses, each Pride Party Pack contains all the essentials for hosting your very own pride party. Whether alone or with friends, a CSGD Pride Party Pack is guaranteed to put a smile on your face and some pep in your step!
There are 2 package selections to choose from: Boozy and Fizzy. Both are filled to the brim with an amazing assortment of items, with the Boozy kits being only for the grown-ups! All proceeds from the sale of the Pride Party Packs will be donated in support of CSGD.
Last year's kits sold out quickly, so be sure to order yours soon. Due to the popularity of last year's kits, we have increased the number available to purchase. We have a limited supply of 100 Boozy packs and 50 Fizzy packs.
Pride@Home packages are $63.00 each inclusive of GST. There are no substitutions of package content.
Where to buy:
Both Fizzy and Boozy packs are available in store at deVine Wines and Spirits.
Fizzy packs are available in store at the MacEwan Bookstore (https://www.macewanbookstore.com/) located in Building 6 at the MacEwan University campus.
Order both Fizzy and Boozy online at devinewines.ca for pick-up at CSGD.
Pick-up is available either from CSGD in Roundhouse or curb-side pick-up is available at the main doors of Allard Hall (north side of building) at MacEwan University. Please email csgd@macewan.ca to schedule your pick-up.
Want to double up the sparkling cava, or add more beer? You may add additional items from deVines upon check out! Please note: the Pride Party Packs are only available for pick up at MacEwan University.
Interested in becoming a monthly donor to the Centre for Sexual and Gender Diversity? Find out how HERE.
We are extremely grateful to our most generous donors and supporters, including deVine's Wines & Spirits, Blush Lane Organic Market, New Level Brewing, AlleyKat Brewery, Meuwly's Artisan Food Market, Sweet Sugar Bake Shoppe, Get Cooking, IKEA Edmonton, Salisbury Greenhouse, Pride Tape, Edmonton Riverhawks, Oilers Entertainment Group, MacEwan University Centre for Sport and Wellness, MacEwan University Bookstore,  Flag Shop Edmonton, ATB Financial, Edmonton Queer History Project, Edmonton Downtown Business Association, and many more!
Please note: There may be some minor variation in package contents due to the quantity and nature of donated items including different flavours of the treats and beverages available.
2022 Pride Boozy Pack – $63.00
2022 Pride Fizzy Pack – $63.00