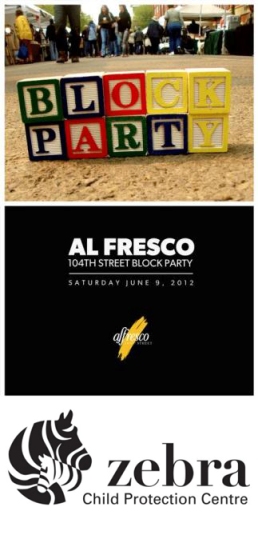 Author: Dirk Chan
The 104th-Street community is thrilled to present this coming Saturday, June 9, the 4th annual Al Fresco block party and fundraiser. So many people from the community have worked hard to plan this exciting day so we hope you can all join us for the festivities. Proceeds of numerous events will go towards this year's charity of choice – the Zebra Child Protection Centre, a non-profit, community-based organization that was established in 2002 to improve the lives of children who have suffered abuse. Through Zebra's community partnerships, the Centre is able to provide children and their families with essential social, medical and mental health services and supports. To find out more, please visit their website at http://www.zebracentre.ca

Below please find the schedule of events for Saturday, June 9th:
Schedule of Events:
8:30am – 11:00am – DECL Pancake Breakfast , on 102 Ave & 104 Street by Ric's Grill – (a minimum $2 donation to Zebra Child Protection Centre)
9:00am – 3:00pm – Farmers Market
Noon – Pride Parade starts on 107 Street and 102 Ave & travels to Churchill Square
Noon – 8:00pm (last admittance 7:00pm) – Fine Wine, Beer & Spirits Tasting in the Melcor Parking Lot – $25 CASH ONLY donation to Zebra Child Protection Centre to access this area. (18 & over only)
5:00pm – 7:00pm – Melcor Kids Zone! (Pocket Park behind Sobeys)
5:00pm – 10:00pm – Extended Patios, , Fashion Alley and more from your favourite 104th Street Merchants!
5:00pm – 11:00pm – The biggest "What the Truck?!" event yet, on 104th St north of Jasper Avenue (10 food trucks – come hungry)
5:00pm – 11:00pm – Stage Performances, Fashion Show & Drag Queens!
Stage Perfomances (5:00pm – 11:00pm):
MitchMatic
Polyesterday
Axe & Smash
Fashion Show (approx 6:30pm)
Drag Queens
Dusty Grooves
Mass Choir
AllOut DJ's
Souljah Fyah (approx 9:20pm)
Dane & Junior Brown
In the meantime our online auction is well under way – the auction is a major component of the fundraising for the Zebra Child Protection Centre. Over eighty items are now on display at deVine's and bidding is accepted both at the store and online.
This year, the auction will end at 6pm, Saturday, June 16th (a week after Al Fresco day). The extra week is because we want to give more time for bidding of the masterworks created by the various street artists. These works will be on display at deVine's the week following Al Fresco Day. All absentee bids must be in by 3pm, Saturday, June 16th by sending an email to info@devinewines.ca. Winners will be contacted the week of June 18th – we're asking the winners to claim their wins within 2 weeks of being contacted.
Please visit our online auction page now.
How Can I Help?

Donate your time. The Al Fresco Planning Committee is always looking for eager volunteers to help us run this exciting event. If you would like to volunteer your time, please contact Caitlin McElhone at 780.761.6682 or email Caitlin here
As well, see the various related Shaw TV interviews about Al Fresco:
Barbara Spencer of the Zebra Child Protection Centre
Al Fresco with deVine's Ed Fong
Please coordinate as many friends and relatives as possible to really make this event the biggest and best yet.