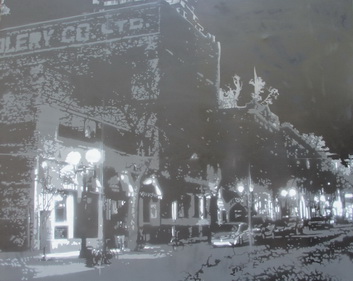 Author: Dirk Chan
Many thanks to the participants and the volunteers and organizers of the 4th Annual 104th-Street Block Party saturday, it was a fun indeed for all concerned. Al Fresco may be over, but the auction in support of the Zebra Child Protection Centre is not. The auction will continue all this week and ends this Saturday, June 16th at 6pm. If you really want an item, we suggest you be in the store to bid in person at this time.
However, if you can't make it down to the store and want to place an absentee bid. All absentee bids must be to us by 3pm, Saturday, June 16th by sending an email to info@devinewines.ca. Please include item#, maximum bid, your contact info in the email and we will bid on your behalf in $10 increments up to your specified maximum.
Note we have given an extra week's time for bidding so that the street artists' works can gain their maximum exposure and bidding potential. These wonderful works are now on full display at the store, along with all the other auction items. Pictured right is Auction Item #82 – Al Fresco Art by Danskee, already fetching a high bid of $1000 – you need to view this in person to grasp the scope of the piece!
Winners will be contacted the week of June 18th – we're asking the winners to come in to pickup and pay (only by cash or cheque made out to 'Zebra Child Protection Centre') for their winning items within 2 weeks of being contacted.
Please visit our online auction page now.
More street art after the jump..

A.J.A. Louden's "Superfresh" – Auction Item #81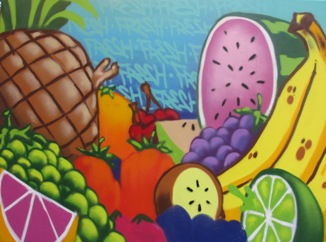 Cash donations can also be made at deVine's in the special Zebra cash box.